In early 2005, lifelong Rhode Islander Mark Hellendrung, along with a group of New England investors, purchased the rights to Narragansett Beer from Falstaff. Former Brewmaster from 'Gansett's glory days, Bill Anderson was brought on board to ensure the authenticity of the brew. That October, for the first time in a quarter century, Narragansett Beer was back in bottles and on bar taps.
In the 12 years since Narragansett has grown from virtually non-existence to New England's 5th largest and the country's 37th largest craft brewery. Nearly two thirds of all establishments in RI proudly serve Narragansett Beer, and the company has expended availability to 18 states plus the District of Columbia.
While the story of 'Gansett's rebirth resonated with New Englander's at large, there was one glaring piece that was missing from the puzzle – a brewing facility in Rhode Island. In 2011 'Gansett launched the "Drink You Part" campaign, asking fans to support the brand so that enough capital could be raised to build a new, state of the art facility in the state where it all began, and 'Gansett fans responded with overwhelming support.
The road to a new brewery wasn't an easy one. Rugs were pulled, plans fell through, and one of the potential future homes for the brand literally went up in a 5-alarm fire only days prior to closing. While the path to a new brewery became a struggle and disheartening at times, Narragansett left no stone unturned.
Finally, in April of 2016, Narragansett announced plans to partner with The Guild to build a brand new facility in Pawtucket, RI laying out a strategy for 'Gansett to brew beer in Rhode Island for the first time in over 30 years.
Construction of the brewery continued through 2016 and into 2017, transforming an old mill building into one of New England's largest beer production facilities. With great pride and a slice of humility, Narragansett Brewery at The Guild finally opened its doors and brewed it's first batch of It's About Time IPA in March 2017, fulfilling its dream and starting a new chapter for the company.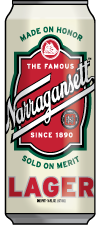 'gansett lager
Brewed just right for drinking with six-row malt, a secret blend of Pacific Northwest hops, and corn from Iowa – this beer is clean, crisp, refreshing and perfectly balanced. A classic American lager and the workhorse of the 'Gansett stable.
5% ABV • 12 IBU
​
'gansett Autocrat
This beer is a unique collaboration that brings together Narragansett's bittersweet Milk Stout with dark, delicious autocrat Coffee. A smooth stout with robust roasted coffee aroma and bittersweet coffee flavor. Notes of toffee, dark chocolate and roasted barley.
5.3% ABV • 30 IBU
​
del's shandy
The Del's Shandy brings all natural lemon concentrate, our award winning Lager, and just a touch of sugar together for a shandy that tastes as refreshingly different as a New England Summer.
4.7% ABV • 14 IBU
​
'gansett IPA
This IPA brings the old-school malt character of pioneering IPAs together with the modern hop profile of today's IPAs. It has body and notes of coffee, raisin and bread. Cascade and Citra hops add an abundance of fresh floral and tropical aromas and flavors without sacrificing balance.
6% ABV • 50 IBU
​
'gansett summer
A clean, easy-drinking golden ale made with two row pale malt and citra hops which adds a touch of tropical citrus flavor and bitterness. Superior drinkability and lower alcohol content make this beer perfect for everything summer – a day at the beach, a BBQ with friends & family, or a night at the ballgame.
4.2% ABV • 24 IBU
​
30 Pleasant St. Leominster, MA
Mon - Sat: 8am - 11pm
Sun: 10am - 8 pm
15 Railroad Square Leominster, MA
Mon - Sat: 8am - 10:45pm
Sun: 10am - 7:45 pm
519 Electric Ave. Fitchburg, MA
Mon - Sat: 9am - 10pm
Sun: 10am - 8 pm